2020-06-08
Usunhome Raised Funds for Two Employees' Parents Who Suffered from Cancer
On June 7th, Usunhome CPC Committee and its labour union held a donation event at Usunhome Art Gallery, responding to Chairman Qiu Wei's call to help the mother and father of two employees Ni Yunfeng and Ni Fan respectively, both of whom are going through hardship that comes along with cancer. All from Usunhome Group, its subsidiaries and affiliates made contributions to help out.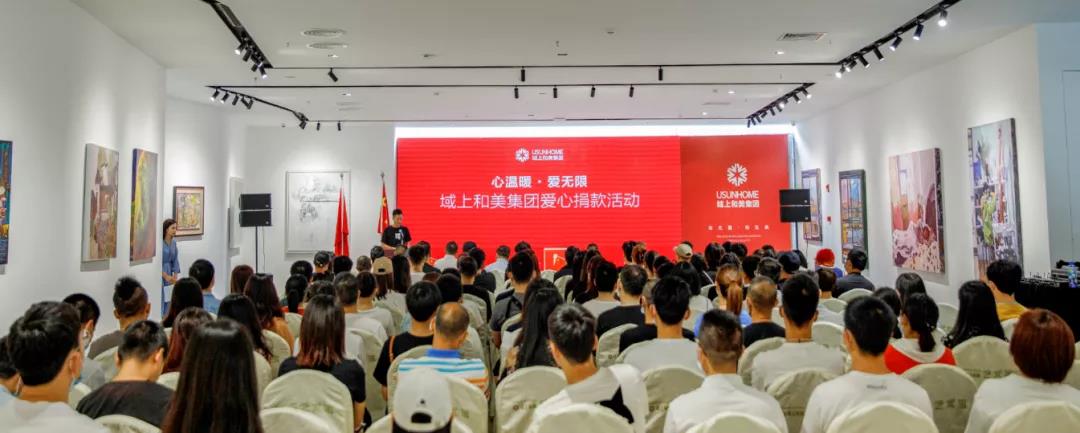 Ni Yunfeng acts in the group's immersive play Stolen Heart. His mother was diagnosed with terminal lung adenocarcinoma in September 2019 and was about to receive even more costly second-line treatment. Ni Fan works as the make-up artist for Stolen Heart. Her father was diagnosed with terminal colon cancer in December 2019 and her mother has been in poor health for years, which puts her family under huge pressure.
"Thanks to your kindness and help, I no longer feel lonely and scared", Ni Yunfeng said gratefully at the event. He thanked the management and his co-workers for their support when his family needed it most. According to Ni Fan, the management went to visit her father in hospital many times since they knew his condition. This has given her confidence and a sense of belonging. She will work harder and live well so as to contribute more to the social.
Chairman Qiu Wei has been very concerned about their parents. He encouraged them to keep faith and wished them a quick recovery. He said that the unfailing support for employees in need, poverty alleviation through cultural tourism, contributions made to help students and relieve disasters and the fight against COVID-19 showed that Usunhome had walk the walk in terms of corporate responsibility and practiced its culture that advocates help and kindness. Good-hearted and compassionate Usunhomers fought side by side with the company against the COVID-19 outbreak, exhibiting a great sense of ownership. He hoped every Usunhomer would stay kind loving and charitable and stand united as a family in the face of vicissitudes.